In last year's edition of the blog, where we looked at trends in the consulting industry, it largely focused on how COVID-19 would affect the industry in the years to follow. While the pandemic impacted the economy, the global consultancy market was relatively unscathed and was expected to grow by over 9% in 2021.
This year, many of the trends that emerged during the pandemic will continue into 2022, driven by the growth in digital technology. As the pandemic has only highlighted the need for adaptiveness, whether at an individual, business or industry level in order to thrive, we expect that consulting firms will continue to align their strategies to these continuous global trends if they are to succeed in the next few years. Here are the key trends that we predict will influence the professional service market in 2022.
---
1. AI and Digitization for improved business performance
The adoption of new technologies will continue as professional services incorporate AI and digital solutions, which are more important for consulting firm clients, in order to improve their supply chain management and data processing. Here are just some examples of those who are paying attention to this already. And there's also an added bonus to this – trend, it will empower analysts within the industry to have an improved decision-making workflow, as the use of AI to filter through large amounts of information means data analysis can be performed much quicker than using traditional methods, offering their clients a smarter and more efficient service.
Consultancy firm EY, has already made a major investment as part of their digital transformation, with $1.5B being put towards audit quality and innovation projects, technology solutions and strategic alliances. EY also acquired Brazilian IT services provider, Partners Digital and UK technology business, Seaton Partners Ltd in 2021, to support clients with their digital transformations. Similarly, Deloitte launched the Deloitte Centre for AI Computing to accelerate the development of AI solutions for its clients and signed an agreement with SAP to integrate SAP customer experience solutions into its own customer experience offerings.
What does this mean for consultants?
The move to digitization expanded during COVID-19 lockdown and is a key trend that will continue, way beyond 2022, in turn, creating a surge in demand and opportunities for consultants specializing in digital transformation.
---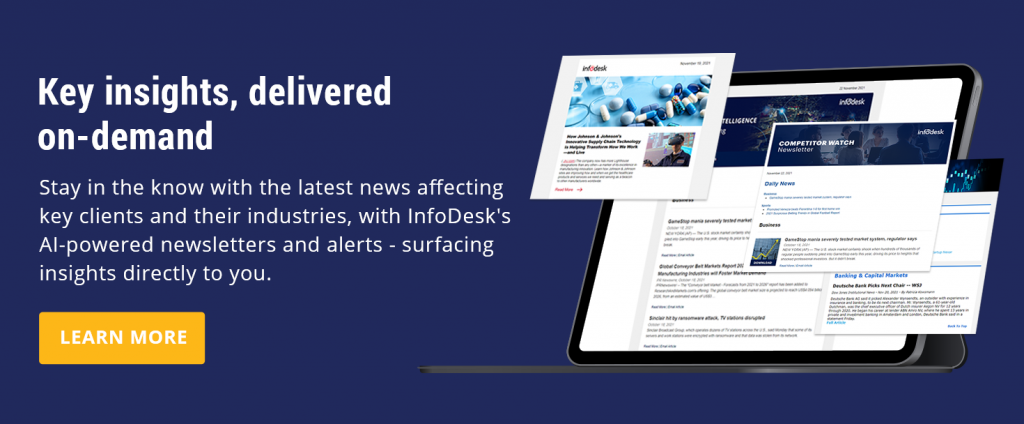 ---
2. Expanding Cloud Capabilities
The shift to remote and virtual working will continue into 2022, increasing the demand for cloud-based services. For professional service professionals, this has led to an increase in them advising clients on cloud adoption, resulting in consultancies expanding their cloud services capabilities through investments, acquisitions and collaborations.

An example of how this is already impacting global firms is the formation of Accenture's Cloud First, and their plans to invest $3B over the next three years in building cloud-first infrastructures. Deloitte also reinforced its global partnership with IBM, by launching an AI-enabled managed analytics solution, helping organizations with cloud adoption.
What does this mean for consultants?
As companies increasingly turn to cloud over traditional IT models to streamline operations and enable flexibility in their business, professional services will continue to build their cloud offerings to meet this demand and look to hire specialists in the field. In addition, existing consultants can expect more training in the use and adoption of cloud-based technology.
---
3. Global recruitment for specialist positions
As the economy continues its recovery and markets reopen, this will encourage an increase in demand for consulting services, with a projected growth for the industry of CAGR of 8%, reaching $1201B in 2025. To meet this demand, firms are expanding their global workforce, offering opportunities for specialists, particularly those with computing science skills. As already mentioned, these key areas will include those with skills in cloud computing, digitization, and also software engineering, change management, as well as traditional strategic consulting roles.
We can see this in motion with the likes of PWC, who have pledged to invest $12B to create 100,000 new jobs globally over the next five years. Following in their foot-steps, E&Y, PwC, Deloitte, KPMG and Grant Thornton are also increasing their intake of India-based graduates with a focus on data science, digital analytics, design, compliance services, cyber security.
What does this mean for consultants?
For those looking for a new venture, there will be plenty of new, exciting opportunities and those with specialist skills will be in high demand, however, expect to be faced with increased competition for top positions as the economy opens up to a global technical workforce.
---
4. Revamped retention strategies
As a result of the expected surge in demand for consultants, consulting firms will face a battle to retain top talent, and many are, or will be, examining a range of retention strategies. Hybrid working models, for example, that were adopted during the pandemic, will continue as studies have shown that both employers and staff are in favor of continued flexibility. As a result, Deloitte are extending their hybrid work model as are PwC who announced a new flexible working deal for its employees.

Consultancies are also exploring other long-term policies for staff retention, including reviewing retirement and health and wellbeing packages. KPMG is one firm who have taken this approach, announcing a reduction of costs on health premiums, expanding paid family leave, adding "caregiver leave", and making generous amendments to their retirement plan.
What does this mean for consultants?
We expect to see other top consultancy firms follow suit and dig a little deeper to make changes to retain their workforce. In particular as the opportunity landscape improves, firms may battle against one another to attract, and retain the top consultants in order to distinguish themselves in a globally competitive market. Furthermore, with the threat of future COVID variants and additional lockdowns, being able to offer hybrid work environments will be essential to manage an unpredictable landscape.
---
5) Compliance with Environmental, Social and Governance (ESG) measures
Consumer and investor consciousness around climate issues has led to pressure for firms to reduce their carbon footprint. As a result, the global ESG advisory market is one of the fastest-growing consultancy sectors, currently worth $14B and forecast to grow around 13% per annum.

The 2021 COP26 conference attracted professional service firms such as McKinsey and BCG, who are advising businesses and governments on their ESG strategies. As well as advising clients, professional services are examining their own internal ESG practices; Deloitte, KPMG, BCG, PwC, EY, Capgemini, LEK Consulting are just of some of the firms that are committed to carbon neutrality practices such as reducing business travel emissions and sourcing renewable energy for buildings.
What does this mean for consultants?
Following the COP26 summit, we anticipate new laws and regulations in 2022 that will enforce businesses to reduce their carbon footprint. It is predicted that there will be more training for consultants on the changing scope of environmental rules, laws, and regulations, empowering them with the skills and knowledge to advise both their employers and clients of the changing environmental regulatory landscape.
---
How can the industry prepare itself?
Companies from multiple industries have learnt (some the hard way) that being proactive is better than being reactive. The year ahead presents another 12 months of changes in a global market where many businesses are only just beginning to find their feet after a difficult couple of years. For consultants in particular, you need to be aware of potential changes as well as prepared to keep ahead of them, in order to support not only your own businesses and it's success, but that of your clients too. So what can you do? We've broken it down into three easy steps:
Invest in technology to automate time-consuming tasks
Information overload is experienced often by those who rely heavily on being up to date on the latest news and consultants are not exempt from this. It can be both overwhelming and time-consuming sifting through all the masses of data, just to find the one update that relates to their client. However, there is a lot of technology out there that can now be relied upon to take away the burden of this, such as AI powered tools that can scan thousands of news articles, and identify the ones that matter to you – whether that be on an individual or organizational level.
Evaluate whether you are getting the maximum ROI on your content sources
Alongside having to keep up to date on any activities relating to its clients, consulting firms will often have access to multiple content sources, including costly premium content. But are you getting what you pay for? As many companies scale back unnecessary spending, it's helpful to gain insight from end-users themselves on just how much value is gained from them.

Power your workforce with the information they need, when they need it
We know that a top priority for any consultancy is the ability to provide their clients with the best service possible and to do that they need to be in the know. It's no use if a vital update in an industry impacting a client is discovered too late or lost in a pool of data. That's why many firms are now taking advantage of tools that push alerts out to them on topics hand-picked by them, ensuring they never miss important insights again.
---
Conclusion
As the global economy continues its post-pandemic recovery, 2022 will see growth in the professional services industry, opening up opportunities for Consultants. With the ongoing threat of new COVID mutations and future lockdowns, consultants (particularly those with specialist skills in computing science and other digital areas), will be in demand as the increase in digitization continues with hybrid working models becoming part of the "new normal" and companies increasingly turning to cloud computing. Firms will also face a challenge to retain their staff as the industry evolves, and so are examining recruitment and retention strategies to hire and retain 'top talent'. Finally, global trends concerning the environment will affect the industry, where consultants will be following the latest legislation and advising both their clients and their employers on reducing carbon emissions and achieving carbon neutrality, as potential new rules and regulations to combat climate change are introduced.
Click here to check out InfoDesk's 5 key trends for the consulting industry in 2023.