InfoLab
Connect your favorite content sources, filter out noise, and identify key insights with InfoLab, our AI-enabled information tool.




INFORMATION LIBRARY
Relevant information, all in one place
Integrate your favorite information sources into one platform using our library of open web sources and connect your licensed premium content by leveraging our deep strategic partnerships with content providers.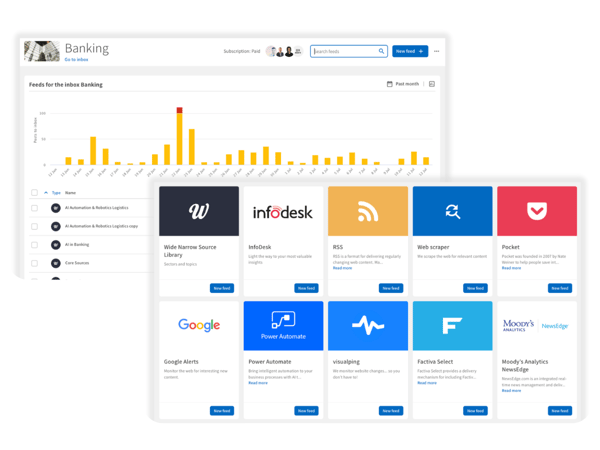 ADVANCED FILTERING
Find the signal through the noise
Our advanced filtering engine utilizes powerful keyword filters, your internal taxonomy, and AI-extracted metadata to help you find the signal in the noise.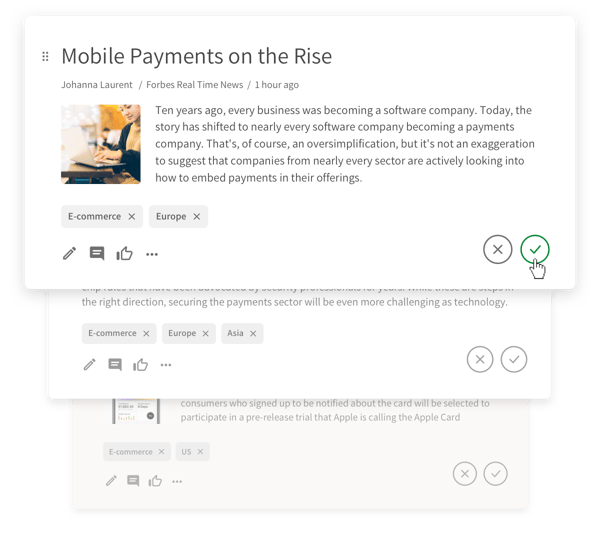 CURATION EXPERTS
Backed by our team of content experts
Need help with your content landscape? Our global team of curation experts can help you find, connect, and manage your feeds, all within your intelligence platform. Want to take a hands off approach? Our team can do the content curation for you!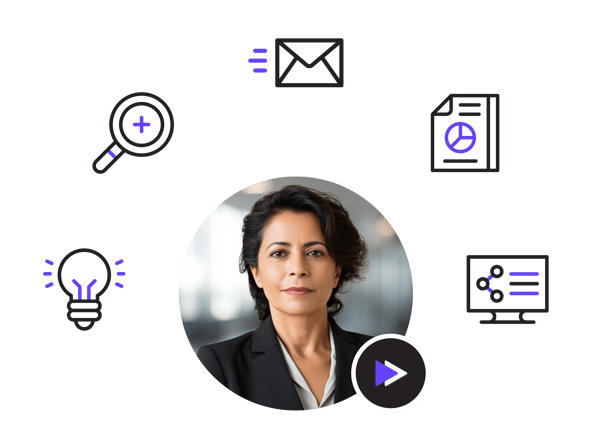 DON'T JUST TAKE OUR WORD FOR IT
Customer testimonials
"Having brought in InfoDesk to solve a very specific challenge of ours, it is incredible to see how quickly other teams within our business unit and beyond have also engaged them for their services. InfoDesk's ability to sift through endless information and deliver the key insights we need is second to none and has become essential in our monitoring of key accounts and the wider industry."
"Huge time saver! My team went from monitoring information 30 minutes per day to 30 per week. It's now used across our organization."
"My team is tasked with keeping our stakeholders informed of key developments across the pharmaceutical landscape. It is crucial that we are aware of anything that could impact our business as early as possible so that we can react proactively. InfoDesk's ability to deliver succinct and expertly summarized briefings based on our specific needs has given us this confidence while also reducing the time we need to spend seeking information."
"The Wide Narrow platform has enabled us to quickly identify key business insights and has drastically increased the efficiency of our analysis."
"My team is extremely happy with the product. It helps keep us updated on market movements, provides an easily accessible repository for our colleagues, and supports our longer-term strategic view."
"By using the platform, I've managed to halve the time it takes me to curate and distribute critical information to internal teams. Not only do I have more confidence that important regulatory updates aren't missed, I'm now also able to spend more time actioning the insights that contribute to our business success.
"
"The platform goes far beyond information aggregation. The tool facilitates collaboration amongst colleagues and allows us to generate reports in minutes!"
"Understanding our competitive landscape is a critical part of being a leading Medical Device organization. InfoDesk's deep understanding of our industry, the content and technology available to us, as well as their experience of deploying bespoke research projects, has enabled us to make highly effective decisions around our CI content and technology tools. I believe this will help to ensure we keep our competitive edge for years to come."
"We use the platform as the vehicle to drive our competitive intelligence across all vaccine projects: your tools assist with the monitoring and make the publishing process easy and we can easily adjust our time and projects based on any changes in company priorities… The implementation period for any changes has always been easy and the support excellent, and you also allow us to test any new technology we offer to see if it will benefit our processes."
"The platform enables transparent coordination of our intelligence processes, across teams, product areas and regions."