In recent years, Artificial Intelligence (AI) has been adopted by a number of industries, transforming their workflows and improving efficiency. The pharmaceutical industry, in particular, is one of those that has reaped the benefits of this advanced technology. In this blog, we will discuss some of the key areas where AI has transformed the pharmaceutical industry and evaluate what this means in the years to come.
Str
AI

tegic planning

Within the industry, it's notable that to date, all of the major pharmaceutical companies are actively incorporating AI into their strategy and product offerings, and several have begun to partner with technology firms to leverage their knowledge and assets to gain a competitive advantage. In doing so, these organizations have seen huge changes including reduced costs (with projected savings of up to $100B annually), so it's no surprise that 72% of companies believe AI will be crucial to how they do business in the future. Through research conducted by our in-house analysts, we've identified the following key areas that have seen the biggest transformation and will continue to develop in the coming years: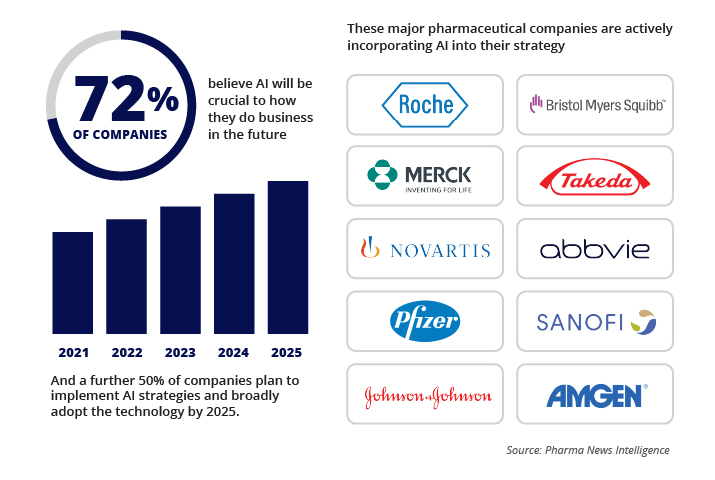 1) Disease Identification and Diagnosis
Thanks to AI and Machine Learning (ML), pharmaceutical organizations have been able to quickly identify and diagnose new diseases, as these technologies are able to analyze huge volumes of data. Whilst this is more directly linked to healthcare, utilizing these tools means the process of diagnosis can be accelerated, contributing towards the preservation of life. And in turn, by identifying new diseases, new treatments can be developed.

In focus: Pharma giant Bayer has strengthened their ties with healthcare technology company Huma, to develop an AI model that can identify and distinguish characteristics of different types of lung cancers, then using those findings to build ML tools that are more powerful than trained radiologists – a nod perhaps that such tools will lead to quicker and more accurate diagnosis, enabling doctors to recommend suitable treatments.
2) Digital Therapeutics
Whilst still a relatively new and niche segment of the pharmaceutical industry, the rapid growth seen in digital therapeutics (DTx) is directly linked to advancements in AI. Here, it plays a significant role in the ability of organizations to learn more about individual patients, so that they can provide personalized and more effective treatments. These tech-focused solutions will be able to lift the burden for healthcare and pharmaceutical companies, whilst simultaneously collating mass amounts of data that can be used to further drive changes in both drug development and testing. What's more, the development of patient access then enables the patients to access this health information remotely, further driving efficiency.

In focus: Recently, DTx company, Omada Health, has been recognized by the Centers for Disease Control and Prevention (CDC) for its Diabetes Prevention Program 'Prevent', as data demonstrated weight loss and blood sugar results that meet or exceed CDC standards. In the future, it won't be surprising to see an increasing number of regulatory bodies recognizing DTx programs as they continue to develop and become more advanced.
3) Drug Development
Perhaps one of the most widely recognized ways in which AI has transformed the pharmaceutical industry is through the acceleration of drug development. From quality control to process automation, AI can increase productivity, efficiency, and production of life-saving drugs – faster than ever before. Another benefit that is welcomed by pharmaceutical organizations is the reduced costs of launching their drugs into the market (which on average costs $1.3 billion), by up to 15%.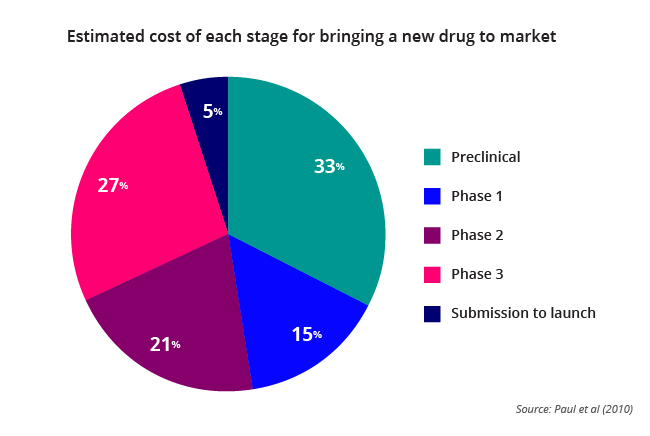 In focus: We've recently watched as Pharma giants (AstraZeneca, Moderna, Pfizer and Johnson & Johnson) developed, tested and rolled out vaccines to fight against the COVID-19 pandemic in record time. Whilst these organizations are already well-versed in advanced technologies, they all partnered with smaller firms that specialize in AI-driven technologies in order to develop their treatments. This has forced the industry as a whole to open their eyes and see that this process can indeed be significantly shortened, and has since pushed a number of other leading organizations to follow suit and announce partnerships of their own.
4) Predictive Analytics
Whilst the pharmaceutical industry is no stranger to data, predictive analytics can give companies access to smarter insights that will give way to numerous developments within research, manufacturing, distribution, and sales. By leveraging technology like ML, areas such as drug effectiveness and site health for clinical trials can be predictive – helping to mitigate risk whilst also enabling companies to make more informed development and distribution decisions.

In focus: Another area in which predictive analytics can be used is within supply chains. Previously, Meridian Medical Technologies found themselves caught up in the short supply of EpiPens, which impacted their manufacturing processes and also put those who rely on the use of Epipens at risk. However, had predictive analytics been used, things like patient demand, in-store inventory and expiration dates of existing stock would have helped mitigate this risk before it became a crisis.
5) Clinical Trials
Additionally, AI is being increasingly utilized within clinical trials, where it is used to identify patients who fit the trial requirements by analyzing genetic information with advanced predictive analytics and also determine the ideal sample size for trials. This is completely transforming how clinical trials are 'traditionally' run, where the process is lengthy and ends up with a success rate of around just 10% – which when costing an average of $1B, is less than desirable. In the future, it is expected that clinical trial lengths will be shortened and also be able to rely on technology to check in with patients engaged in the trial.


In focus: As the pandemic pushed people to become more reliant on technology as remote working became the norm, virtual trials became widely adopted and used by companies within the pharmaceutical industry; and with benefits including reduced costs and access to a wider pool of patients – it's hard to see why this didn't happen earlier. Science-37, a company that offers end-to-end clinical trial services, virtually raised a huge $107M in funding from investors including Novartis and Sanofi.



…and as a bonus, 6) Information Management
Despite AI's major role in improving various workflows and processes within pharma, it can have a knock-on impact on another huge burden felt by the industry – and that is information overload.

The faster diseases are identified, drugs are created, trialed, brought to market, regulations changed and so on, the more data is being produced. This means that there is more information that needs to be collected, processed, shared, understood and reacted upon. So you get the idea, it's a lot. But information management is just another area where the power of AI can be harnessed – a computer can process and analyze more data, quicker than any human can, which enables additional insights and analysis to be added by the experts. Leveraging the power of AI also allows pharma companies to keep up with the latest data, and by having AI do all the hard work in surfacing and delivering the insights that really matter the most to you, you have more time to focus on using that data to drive business decisions.

Then there you have it: actionable intelligence at your fingertips. Some companies are already doing this – read our case study, 'Using AI to Remove Intelligence Curation Inefficiencies', to discover how.
---
Collaboration, collaboration, collaboration
These key areas are certainly seeing changes and, as identified, have technology to thank for that. But they also all have one thing in common when it comes to how these areas will continue to develop over the coming years – and that is collaboration.

The future for the pharma industry really lies in partnerships and joint ventures and acquisitions with organizations specializing in advanced technologies such as AI. These collaborations will give pharma organizations the means to continue exploring new ways of optimizing processes, such as drug development and clinical trials. Already, nearly 100 partnerships have been struck between AI specialists and pharma companies for drug discovery since 2015 – and with the likes of AstraZeneca, Bayer, Johnson & Johnson, Pfizer, Roche, and Sanofi all leading the way, as the technical sophistication of AI continues to increase, this number is set to only grow in the coming years.

So, what happens next? Well, we can't be certain but from our Analyst's perspective, eventually, as technology helps to develop enhanced programs and optimize key pharmaceutical processes leading to savings in both time and costs, many pharma organizations may eventually be able to expand their own technological capabilities, so that products can be brought to market more quickly, safely, and effectively.
---
Conclusion
It is clear that the use of AI and other advanced technologies will continue to drive change throughout the pharmaceutical industry in the coming years, as organizations become increasingly aware of the strategic importance of adopting new technologies like AI to gain a competitive advantage. In particular, as this happens we expect to see more investments, acquisitions and partnerships by the top pharmaceutical companies as they incorporate these new technologies across the drug discovery and deployment pipeline, to increase efficiency.
Did you know? This blog was put together using research from our expert in-house analysts. Discover more about our analyst services and bespoke reports here.