It's not uncommon for Sales reps to have the most up-to-date and valuable insights about competitors and customers. Unfortunately, that information is not shared in a timely or consistent manner. But what if all that changed? What if your organization could implement the tools and methodology to make it easier to access and share these insights. With a structured knowledge-sharing system in place and clear incentives for contribution, it will become evident for everyone that contributing insights has an exponential impact.

Structure & Methodology
When organizations struggle with their field intelligence programs, it is typically not a matter of resistance among the reps, but a lack of structure and methodology. With Wide Narrow, our platform provides a seamless and structured mechanism for engaging with your sales teams where they do most of their work (Salesforce, MS Dynamics, Hubspot, and others):
Tools for collecting field intelligence contributions (either feed contributions from existing CRM or embed the Wide Narrow Contribution module)

Curating insights in collaboration with your internal SMEs (Product Marketing, Product Development, Sales Engineers, Sales Enablement, and other stakeholders)

Report your curated results back to your reps using dashboards, battle cards, or feeds back into their native environments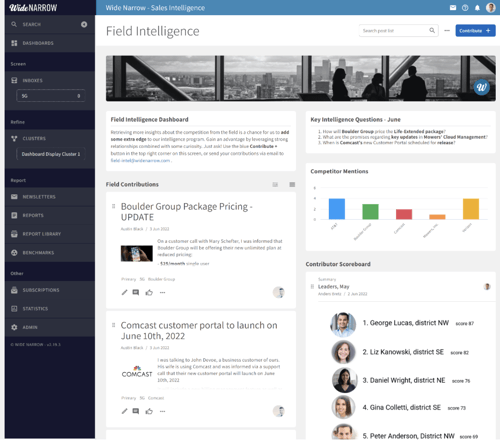 With a capable toolbox, structured methodology, and well-defined process your field intelligence program will be on the right track.
A structured and easily accessible way of communicating your requests/needs with the sales reps is a crucial success factor, but equally important is the ease of making a field contribution.

Communicate your key intelligence questions
If you say, "anyone who hears something interesting about the competition, please email me here:", it is likely that the response rate will be minimal. Instead, if you communicate that you are interested in learning about a particular company's launch date for a particular new product that is in development, the response rate and quality of feedback will be much better. For example, "Please help us confirm if their planned Q1 release is still on track", the likelihood of feedback is going to be exponentially higher. The more specific questions you ask, the higher chance someone will accept the challenge and try to find that answer for you.


Give credit where credit is due
Make sure to add the origin of your competitor insights – if the same information was submitted from several reps, it is imperative to take the time to name them all. An easy way to "positively charge" the field contributions is to connect them with other process steps, like a win-loss program. When the rep fills out a form about their "New Logo Win", that form should include questions about which competitors you were up against, why you won, insights on product features, business models, pricing, and any other insights about the competition gained during the process. When you publish the "New Logo Win" by Lisa Smith, Lisa is will be proud to be acknowledged for this new logo win. The competitor insights added to that announcement come with minimal extra effort.


Gamification with a contributor ScoreBoard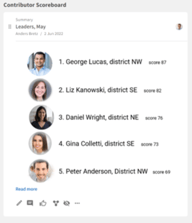 An easy way to keep your sales teams engaged is to add an element of gamification. Rate their contributions with a scoring model with points, and present the top 5 or 10 contributors on your Field Intelligence Dashboard. Allow them to vote on the most important competitor insights every month. Challenge your teams to "have at least three reps" from their team on the Top 10 contributor list. When the Pacific Northwest team continuously has more reps with a high score on the scoreboard, the Mid-West and the South-East teams will see this as a challenge, sparking increased field contributions.

IRL Meetings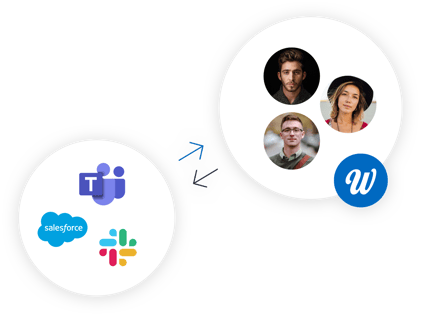 Besides the dashboards and the gamification, an easy and very effective way to boost field contributions is to talk about them. Every team can include the Field intelligence topic as a recurring talking point in their weekly team meeting; the Sales managers make sure to ask follow-up questions, gather additional insights or verifications from other team members, and compliment the contributors. At the quarterly Department meeting, the best contributors from each region can present their insights; awards can be given, and new Key Intelligence Questions discussed.

Lessons Learned
Make sure to get some quick wins – start gathering and presenting insights on topics that are of high interest to a majority of your sales team

Engage some ambassadors to lead by example. If you could get one or several executives engaged in the process, that will further incentivize your reps.

Be consistent. You will not gain everyone's attention and engagement overnight, but the longer your program run, the more valuable it becomes.
Click here to download your free copy of our Field Intelligence Playbook